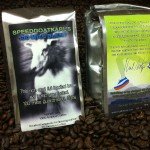 Renowned coffee expert and author Keneth Davids recently reviewed our own SpeedgoatKarl's 100 Mile Blend on his web site CoffeeReview.com   Please read Kens review in it's entirety below:
Jameson Coffee
SpeedGoatKarl's 100-Mile Blend
Greencastle, Indiana
Reviewed: July, 2012
 Price: $12.00/12 ounces
 Aroma:          8
Acidity:         7
Body:            7
Flavor:          8
Aftertaste:    8
 Roast (Agtron): (42/62)
 Origin: Not disclosed.

 OVERALL RATING: 88
 Notes: This blend was created in partnership with 'ultrarunner' Karl Meltzer, who at this date has won thirty-two 100-mile mountain runs. Jameson Coffee is a small-batch roaster in Greencastle Indiana. Their mission is to "Offer exceptional tasting coffee, provide unequaled service, treat people well and have fun." Visit https://www.jamesoncoffee.com or call 1-(800) 694-9559 for more information.
 Blind assessment: Nutty, cocoa-nib-like chocolate dominates in aroma and cup, with complicating hints of cedar, honeyish flowers and molasses. Backgrounded acidity; light, slightly leanish mouthfeel. Some cocoa-nib chocolate carries into a richly balanced finish.
 Who should drink it: A woodsy kind of coffee, with its appealing roasted cocoa nib, cedar and honey suggestions.   
 Perfect timing as the Speedgoat 50k hits this Saturday, 7/28/12 and it's gonna be a hot one.  Follow the action with KarlMeltzer.com and live coverage from Bryon Powells gang at iRunFar.com
Filed under Around the Coffee Pot, Coffee Facts
Tags: Bryon Powell, Coffee Review, CoffeeReview.com, irunfar.com, Karl Meltzer, Ken Davids, Keneth Davids, SpeedgoatKarl's 100 Mile Blend